A Timtroduction
Oh Tim, you cunning monkey, we do love you so. But how much do we really know about Tim? Yes, he's got savage style, a lofty and alluring turn of phrase and an unrivalled proclivity for antiques, but where's he from? How did he develop these mad skills and more importantly his enviable elan for fashion?? Well, ladies, gentlemen and gentlefolk, the wait is over! I'll tell you! Albeit in a rather biased manner, hence coming across as a fan girl! Which is true, so balls to it and let's get cracking
Tim's age in years is 65, so I've had to stifle a huge crush on him since he's old enough to be my grandfather. But that crush has blossomed into idolatry, partly because he's a simply smashing fellow and partly due to my being in awe of his style and the private pride I take in it being quite similar to my own. I suppose I reckon we'd 'get on'; we should be acquainted, but we aren't, so I'm manifesting my frustrations into a blog-post.
In 2003 he joined Bargain Hunt, and the daytime-television-watching British public grew to love him. Pensioners, the unemployed, housewives/husbands and students alike watched this English gent become TV royalty. Armed with a mighty knowledge of all things antique (He held the position of Director at Sotheby's, the world's biggest art business, for 18 years prior to Bargain Hunt) and a winning toothy grin, Tim arguably became a British cult icon. Let's have a peek of that magnificent word-hole…
By Jingo, that's a winning smile! Where was I… Oh yes, Wonnacott trivia.
Ahem!
As well as being a national treasure, he's just a generally nice man. I can't be bother to reword it, so here is an excerpt from his Wikipedia page:
'In October 2007, Wonnacott took part in what was then believed to be the world's largest public art auction when 63 fibreglass cows were put up for sale outside Manchester's Town Hall. Proceeds were to be donated to local charity, Manchester Kids.'
Now, if you know me, then you know why this piece of information in particular would woo me; I'm a Manchester lass through and through, and anyone who does good things for my city is a top fella indeed, nice one, sorteeeeed.
Here is another picture of Tim being an absolute lad, embracing northern culture…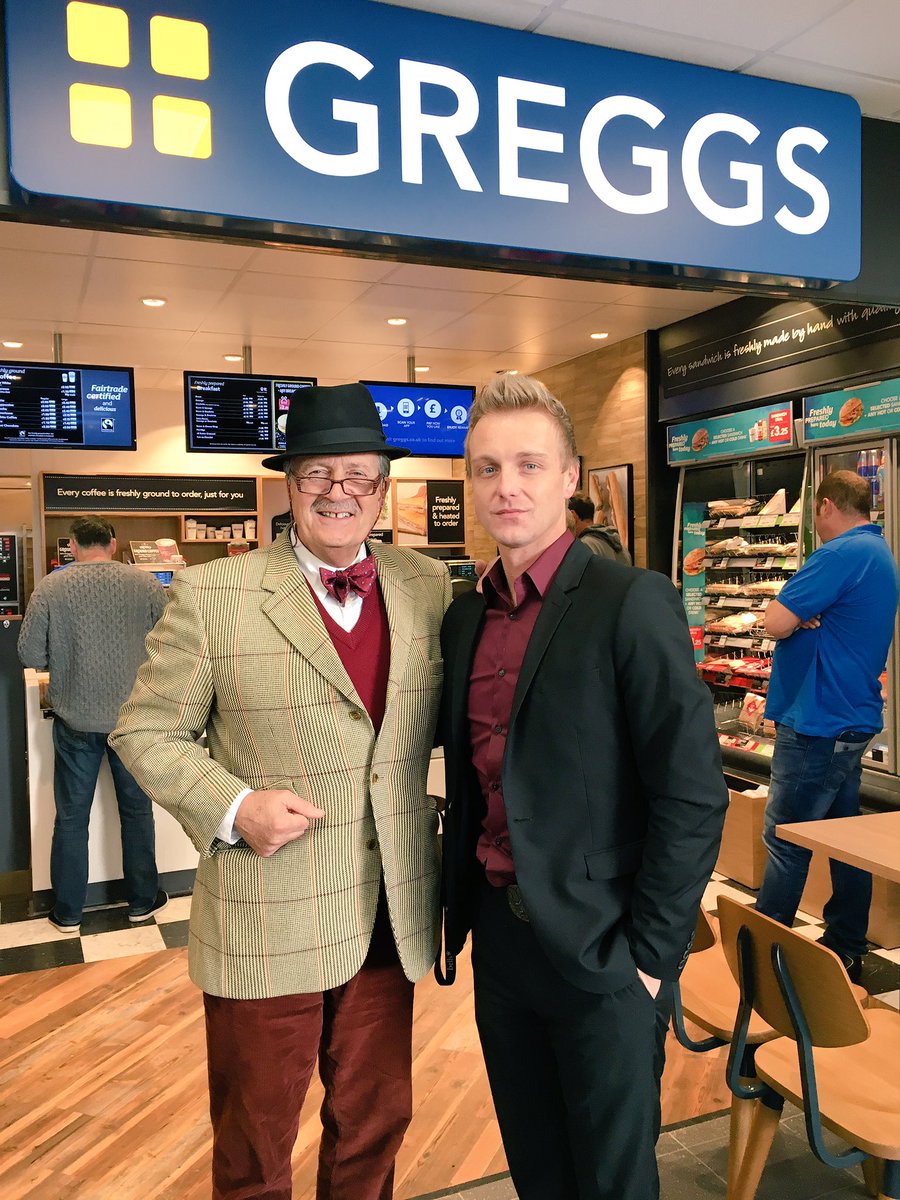 Top Lad!
Now, there has been some controversy surrounding Tim and his departure from Bargain Hunt two years ago. Frankly, I'm having none of it; he's a shining beacon of nobility and poise in an otherwise cluttered sea of hopelessly tragic 'TV-personality' despots.
A source at BBC Bristol said: "I've always found him fine to work with. But some staff on Bargain Hunt have been unhappy and made a complaint."

"The word bullying has been used and the BBC has to take these things seriously and check them out."

The Mirror, 2015
I'm having none of it! Yes, I might be biased, and yes, it's probably wrong of me to assume that these Bargain Hunt 'staff' are just whiny, white middle-class BBC types who have gone and ruined my favourite long-running television show… But that's what i think so there!
Anyway, The next time I write about Wonnacott, it shall revolve mainly around his style; I thought it would be prudent to write a short piece on his professional and personal life as an introduction. After all, I don't suppose everybody knows who he is, which is a crying shame! So, next time, hopefully, I won't deviate too much from the title!
Join us soon for some more Wonna-loving! 
References (Fyi this is my own simple referencing system and NOT Harvard referencing, because nope)
https://en.wikipedia.org/wiki/Tim_Wonnacott
http://www.mirror.co.uk/tv/tv-news/bargain-hunts-tim-wonnacott-quits-6899227